ESPN's 2010 BCS Announcers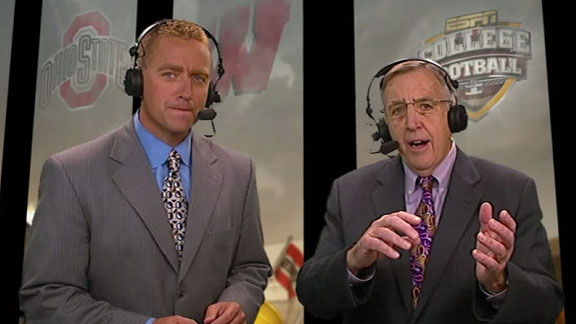 This year, the BCS Bowl Games move from FOX to ESPN. In news that isn't surprising at all, ESPN
has announced
that Brent Musburger (and his
drinking game
) and Kirk Herbstreit will call the National Championship game along with the Rose Bowl. Brad Nessler and Todd Blackledge head to N'awlins for the Sugar Bowl, while Matt Millen hopefully gets left in the desert providing color commentary for the Fiesta Bowl along with PBP man, Sean McDonough. That leaves us with the Orange Bowl, and the WWL decided to spice things up by going with a
wildcard
and taking the talents of the MNF crew to Miami to call the action (Tirico, Jaworski and that guy, Jon Gruden).
If you felt the month of December wasn't enough pregame hype for the BCS games, don't you
worry
, because each BCS game will feature four-hour pregame shows. Weeeeeee!