Chip Caray makes totally original mom's basement joke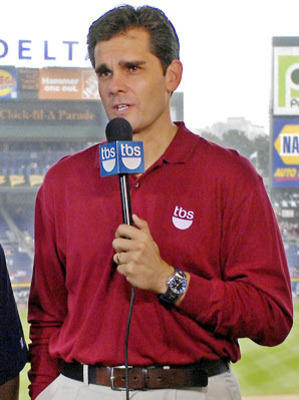 Atlanta Braves TV play by play man Chip Caray is one of the foremost examples of a person having a reputation based solely on his name as opposed to his actual ability. During Wednesday's Braves-Royals broadcast (which was simulcast on MLB Network), Fox Sports South reporter Tom Hart broke down Baseball Prospectus's updated playoff odds, which have the Braves with a 71% chance to make the playoffs as of yesterday, thanks to Atlanta's ten game winning streak.
Of course, that didn't stop both Hart and Caray from taking jabs at the statistically-based crowd. Hart apparently assumes these probabilities are pulled out of thin air instead of the result of simulations, saying "even though we've seen it with our eyes, now the guys with the computers and the numbers are catching up". Yes, because no one except for Braves fans knows that the team is 12-2 and playing lights out baseball right now.
But then, Caray responded with the proverbial "yo mama" of statistical jokes: asking Hart when he was moving out of his mom's basement. Really? A mom's basement joke? What is this, 2003? Haven't we moved beyond "mom's basement" jokes as something viable for anyone with a functioning intellect? I'm sure next, Caray is going to ask broadcast partner Joe Simpson if his refrigerator is running.
It's always disheartening to see broadcasters mock progressive thinking when it comes to baseball, and even moreso when they do it in such a pathetically outdated way.
[h/t to Sporer for the video]
So glad this a##hat is no longer doing Cub games, Couldn't stand his granddad either, worst two Cubbie announcers in history.
@awfulannouncing I thought he was just making a regular joke there, not disrespectful.
Oh come on, that was just a good natured joke.
@awfulannouncing Chip Caray should not make fun of anyone about anything, ever. If not for his last name, he'd be a used car salesman.
Nothing beats the old days, listening to his grandpa Harry cough up phlegm in the booth, or talking about the marvels of genetic splicing while players round the bases. Good times.
Amazing hairstyle?
I only see his grandaddy's doo, right?
I actually always felt this way about his dad Skip. I thought Skip was a horrible announcer but I love listening to Chip announce a game.
Thought it was pretty crazy doing a report on the chances of the Braves making the playoffs 2 weeks in...I thought Chips remark was funny..
Joe's comment about the "10 day Delta coming up" was actually rather clever, and if Chip had left it at that, a lot of awkwardness could have been saved. Just more proof that under that amazing hairstyle of Chip Caray lies...absolutely nothing.
so what classifies classy fans and good announcing?
The Braves are an example of a team having a reputation based solely on their name and that stupid "Tomahawk Chop". Classy fans, too - remember their final game of the post-season last year?
Caray is often mean-spirited, as well. In the past, he's actually rejoiced at injuries suffered by opposing teams.
 @hoophead Sorry, they tend to make jokes on the broadcasts about how much time goes into making Chip's hair look "just so." Guess the sarcasm didn't translate well.