John Feinstein is a BCS flip flopper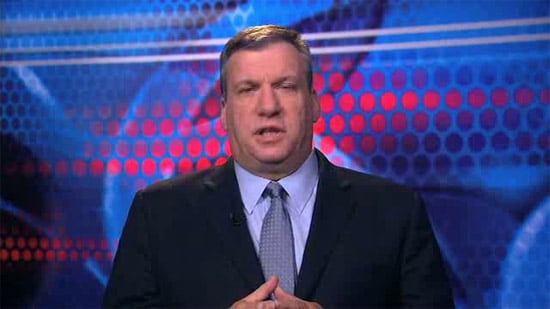 If there's anything that exposes hypocrisy and flip flopping, it's a debate about the BCS. This year's debate pits undefeated #2 Ohio State against 1-loss #3 Auburn. The intensity of this debate has stoked fires everywhere. Conference loyalties, regional differences, college football fans, traditionalists, revolutionaries, corporate interests, conflicts of interests, everywhere you look someone has a #hot #sports #take about this year's BCS quagmire.
Enter sports columnist, author, and longtime member of the sportswriting upper class, John Feinstein. He wrote a blistering column thrashing Ohio State for their strength of schedule and arguing on behalf of Auburn (and/or Missouri) leapfrogging the Buckeyes because they're more deserving of a national championship game appearance in his eyes.
Five years ago, Feinstein argued on behalf of an unbeaten Utah team being named National Champions instead of more fancied one-loss teams and said strength of schedule arguments were "bogus." It's a good old fashioned flip flop!!!
Here's John Feinstein in 2013, arguing that wins and losses don't matter as much as who you play:
"Ohio State is 12-0 and Auburn is 11-1.
That's the sole reason the Buckeyes will go into Saturday's Big Ten championship game in the No. 2 spot: They're undefeated. If you are going to buy into that line of thinking, then Northern Illinois — also 12-0 — should be ranked no worse than No. 3.
Won-lost record should certainly be among the criteria for ranking teams and deciding who plays in the title game. But it shouldn't be the criterion."
And here's John Feinstein after the 2008 season, arguing that wins and losses matter more than who you play:
"I say this not to demean the performance of Southern California, Texas or the winner of Thursday's Oklahoma-Florida game. All are fine teams that have had outstanding seasons. They have, however, one thing that Utah does not have.
A loss.
All of us know that in competition anyone -- whether an individual or a team -- who does not lose once is the champion. It's really pretty simple: If no one beats you, then you are the winner. You are No. 1. You go home with the first-place trophy."
John Feinstein in 2013, arguing that strength of schedule is the most important thing in college football:
"There's a reason the team that wins the NCAA basketball championship each April is rarely the team with the best regular season record; it is almost always a team that comes out of a demanding conference and has suffered some inevitable losses along the way. Everyone knows that, which is why the NCAA basketball committee places great emphasis on strength of schedule. Sadly, that's not the case in college football.
John Feinstein in 2008, arguing that strength of schedule is bogus:
"First of all, the strength-of-schedule argument is bogus. How tough did Texas Tech and Oklahoma State prove to be in the postseason? Beyond that, consider this: Do you think anyone from a BCS conference is going to start a home-and-home with Utah -- or Boise State or TCU or Brigham Young -- anytime soon? No. The BCS schools would rather schedule Coastal Carolina and Wofford and Pacific (to name a few teams that played BCS powers this year) than schedule Utah, especially on the road."
John Feinstein in 2013, proponent of selecting teams based on the aesthetics of resumes:
It also is true that Florida State hasn't exactly beaten Murderer's Row. But the Seminoles' 51-14 rout at Clemson is head and shoulders above anything Ohio State has accomplished. Neither one can come close to matching the résumé of either Auburn or Missouri — which also is 11-1 with the loss to South Carolina in double overtime. Auburn's loss was at LSU. Does anyone out there really think Ohio State would go to Baton Rouge and win?
John Feinstein in 2008, opponent of selecting teams based on the aesthetics of resumes:
"Championships, as we all know, are supposed to be won, not selected. That's one reason why figure skating, though it may be athletic and at times sublimely aesthetic isn't a sport. The same goes for diving or any alleged competition that involves judging. Chess is a sport; gymnastics is not."
John Feinstein was for undefeated teams before he was against them.
[H/T: Eleven Warriors]
Neither here nor there, but:
"Do you think anyone from a BCS conference is going to start a home-and-home with Utah -- or Boise State or TCU or Brigham Young -- anytime soon? No."
Ohio State recently scheduled a home-and-home with TCU for the 2018 and 2019 seasons.

Is there really debate about this? Auburn is extremely fortunate that they didn't lose both of their final two games. I don't think Ohio State is great (in fact, I think they'll lose to MSU), but if they win again Saturday they'll deserve to go get blown out by FSU more than Auburn will.
It's funny how badly those two championship gag jobs by Ohio State have framed the arguments for many people.  I'm convinced that if this were any other team from the Big Ten this wouldn't be an issue, but I don't think anyone actually has faith in Ohio State which leads to a lot of this.  It's really a perception thing more than anything.
Late correction for pmason03. 
After re-reading a couple of my posts I only specified  last 4-5-6 years in one of them, in reference to the Big Least.
 In the other post  I said "past "which would rightly lead you to bring up Miami in the early 2000's.
Thus the reading comprehension jab should be directed at myself.
My bad!
In 2001 and 2002 the Big East had an undefeated team, the Miami Hurricanes. They were not jumped by a one loss SEC, Big 12 or Pac 12 team either year. They won the BCS CG in 2001 and in 2002 were defeated by a 14 pt. underdog, Ohio St.  Miami dominated the Big East and no one questioned their right to be in the NCG as a result. 

I was speaking of Columbus in general as being home of the Buckeyes. Well aware of where BCSCG is being played. 
My point about the Big Least is that had they had an undefeated team in the past they would have likely been jumped by a one loss SEC team or even a PAC 12 / Big Twelve team and rightly so IMO.
Ohio State is no better in the singular and the Big Ten as a conference is just as weak and tepid as the Big Least of days of yore. 
My be a flip flopper, but his take is spot on about tOSU.  Big Ten is dog shit. OSU best of a sorry lot. Would be kind of like awarding a BCS CG to the winner of the Big Least in any of the last three or four years.
If OSU goes it will just subject the rest of the country to watching them get their teeth kicked in per usual  in Columbus.
Auburn got beat up by a pretty average LSU team. I'm still trying to figure out how they are ranked ahead of Mizzou and Michigan St.
@pmason03 Reading comprehension my friend, 
That's why I specified the Big Least of the past 5-6 years.  Talking about the time after Miami and others bolted for greener pastures.
I don't really have a big problem with OSU being there. It's how this terrible system is set up. 
Just hate to see another Blowout because a vastly inferior and highly overrated Big Ten tam takes the field.
@david1314 I don't recall any undefeated teams in the Big Least in any of the last three or four years. And the BCS CG is in Pasadena, not Columbus.