Jim Harbaugh was in the audience for Judge Judy
In the latest example of strange celebrity bedfellows is the story of one famous NFL head coach who is a huge fan of one famous made-for-TV judge. 49ers head coach Jim Harbaugh is an admirer of one Judge Judy and Monday's episode featured Harbaugh and his dad Jack in attendance. Harbaugh compared the NFL Combine to an appearance on Judge Judy and that quote was even included in a promo for the show in the Bay Area. Via CBS San Francisco...
Unfortunately, Harbaugh was only in the audience for a taping of Judge Judy and not acting as a plaintiff or defendant. Here I was hoping Judge Judy would have to settle a dispute between Jim and John Harbaugh over use of the family boat or something entertaining like that. Instead, we see Jim and Jack Harbaugh watching on with child-like enthusiasm for a run-of-the-mill case...
I never quite got the appeal of TV courtroom shows. They're all the same. There's little entertainment value. And they're all so blatantly staged and utterly pointless that you'd be better off watching Maury, Springer, or even God forbid Steve Wilkos to get your low-rent mindless syndicated entertainment. Nevertheless, Jim Harbaugh seems thoroughly captivated by Judge Judy. If Judge Jim launches in 20 years, maybe I'll finally change my tune on staged courtroom dramas. Just imagine this face trying to award damages when someone doesn't pay their rent...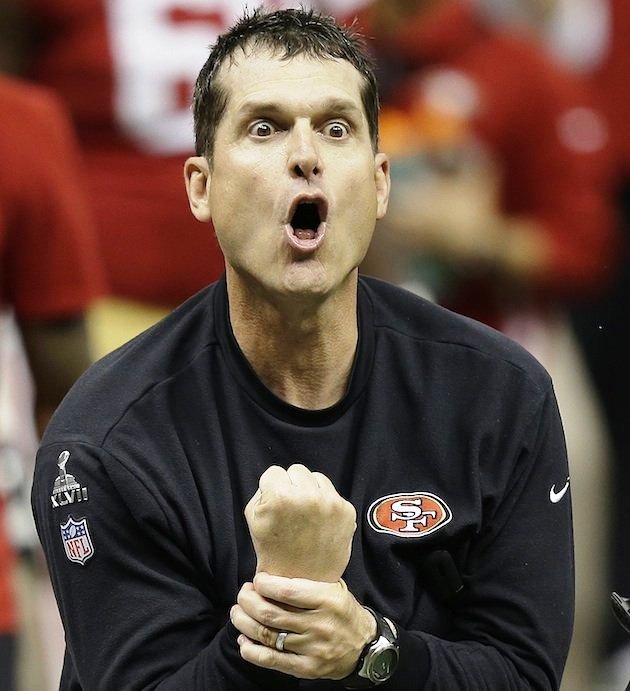 I had this idea for a scam if I lived in America with these shows.  I read somewhere that the shows actually pay the judgement.  So if they judge one person owes the other person $3000 and a new TV or whatever, then Judge Judy TV Show actually pays the $3000 and the TV for you, so I had this idea to make a fake dispute between a friend and me and then both of us split whatever Judge Judy makes one of us pay.
Maybe he should have taken Jim Schwartz and they could finally settled who was in the wrong during Handshakegate.