The Toronto Sun pulls no punches for the Maple Leafs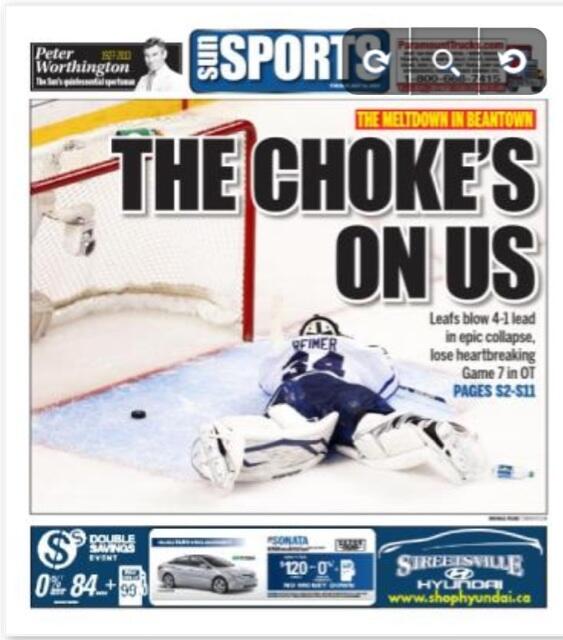 The thrill of victory is great, but the agony of defeat always makes for better and juicier headlines. Take the Toronto Sun for instance and their reaction to the hometown Maple Leafs blowing a 4-1 3rd Period lead in Game 7 against the Boston Bruins, losing 5-4 in overtime. "The Choke's On Us" might be a little harsh considering Toronto did fight back from a 3-1 series deficit to force the Game 7... but with the Leafs' recent run of futility, Toronto is going to embrace this collapse like they are the hockey embodiment of Sergio Garcia.
On the bright side, it's Blue Jays season or something.
H/T Toucher and Rich
Oh for godsakes why must the media behave like jackals circling around the carcass? Are there any real journalists left in this world whose mission is to get a post game interview that doesn't consist of rubbing salt in the open wound? No wonder athletes hate the media so much.
The Maple Leafs had no business winning that series. The fact that they came so close is a testament to their grittiness - especially of their goalie. They have nothing to be ashamed about (although I'm sure their players and most of their fans will feel differently).