Your MLB Announcing Schedule for 5/21 - 5/26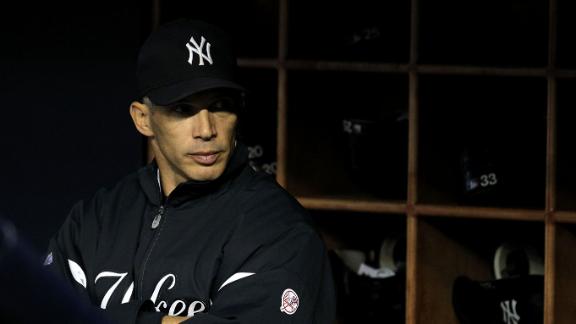 Tuesday, May 21
New York Yankees @ Baltimore Orioles (MLBN 7PM) Bob Costas, John Smoltz, Tom Verducci [Alt: Rays @ Blue Jays]
Wednesday, May 22
Cincinnati Reds @ New York Mets (MLBN 1PM) Local Broadcast [Alt: Dodgers @ Brewers]
Chicago Cubs @ Pittsburgh Pirates (WGNA 7PM) Len Kasper, Jim Deshaies
New York Yankees @ Baltimore Orioles (ESPN 7PM) Karl Ravech, Barry Larkin
Thursday, May 23
Cleveland Indians @ Boston Red Sox (MLBN 7PM) Local Broadcast [Alt: Orioles @ Blue Jays]
Friday, May 24
Chicago Cubs @ Cincinnati Reds (WGNA 7PM) Len Kasper, Jim Deshaies
Philadelphia Phillies @ Washington Nationals (MLBN 7PM) Local Broadcast [Alt: Yankees @ Rays]
Saturday, May 25
New York Yankees @ Tampa Bay Rays (MLBN 4PM) Local Broadcast [Alt: Twins @ Tigers]
Chicago Cubs @ Cincinnati Reds (WGNA 4PM) Len Kasper, Jim Deshaies
St. Louis Cardinals @ Los Angeles Dodgers (FOX 7:15PM) Joe Buck, Tim McCarver
Philadelphia Phillies @ Washington Nationals (FOX 7:15PM) Tom McCarthy, Bill Ripken
Atlanta Braves @ New York Mets (FOX 7:15PM) Justin Kutcher, Tom Verducci
Miami Marlins @ Chicago White Sox (FOX 7:15PM) Thom Brennaman, Eric Karros
Oakland Athletics @ Houston Astros (FOX 7:15PM) TBA, Mitch Williams
Sunday, May 26
New York Yankees @ Tampa Bay Rays (TBS 1:30PM) Dick Stockton, Ron Darling, Dennis Eckersley
Miami Marlins @ Chicago White Sox (WGNA 2PM) Ken Harrelson, Steve Stone
Atlanta Braves @ New York Mets (ESPN 8PM) Dan Shulman, Orel Hershiser, John Kruk
H/T Sammy!
Jon Sciambi and Chris Singleton will be working the Atlanta Braves at New York Mets game for ESPN Radio this weekend and here are the broadcasters for the ESPN Radio Memorial Day Doubleheader next monday- Dan Shulman and Chris Singleon will be working the Baltimore Orioles at Washington Nationals Beltway Series game which meanss that both of them will fly from working Sunday Night Baseball at New York on Sunday night to our nation's Capitol Washington D.C. for a Day Game on Monday and Dave Flemming and Jim Bowden will be working the San Francisco Giants at Oakland Athletics Battle Of the Bay game.
ESPN's Press Release states it is Jon Sciambi, Aaron Boone, and Mark Mulder calling the game Wednesday. Ravech and Larkin are doing Baseball Tonight on Wednesday.
@DanielOrmsby Actually Daniel no Karl Ravech and Barry Larkin are working the ESPN Wednesday Night Baseball game this week, because Jon Sciambi, Aaron Boone and Mark Mulder are doing Baseball Tonight on Wednesday night according to ESPN Press Releases this week for Monday May 20th!!!
@CUbsfan Guess I read it wrong, though frankly it should be the other way around. ESPN made a big deal saying Sciambi would be the regular Wednesday Night announcer, and yet they've used him roughly 1/3 of the time. Hypocritical announcements. 
@CUbsfan   In a Press Release earlier this year ESPN posted the PBP teams of Sunday Night Baseball w/ Dan Shulman, Orel Hershisher, John Kruk, & Buster Olney; Monday Night Baseball w/ Dave O'Brien, Aaron Boone, Rick Sutcliffe, & Tim Kurkjian; and Wednesday Night Baseball w/ Jon Sciambi, Nomar Garciaparra, & TBD. They also said that Sciambi and Chris Singleton would act as the announcers for ESPN Radio.

@DanielOrmsby @CUbsfan Daniel ESPN has also used Sean Mcdonough as the PBP Man for Wednesday Night Baseball this year too and when did ESPN say that Jon Sciambi would be their  regular Wednesday Night Baseball PBP Man this year???