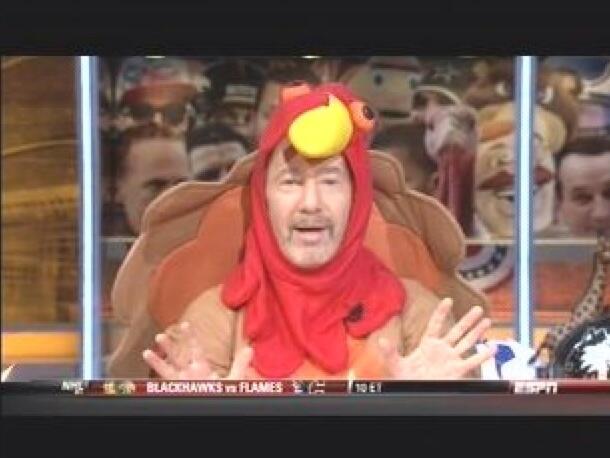 On this Thanksgiving Day we polled our staff for what they are thankful for this year in sports, ranging from a variety of viewing options to some of our favorite characters in sports on television. Make sure to click "Read More" for all the variety of responses. All of us are thankful Tony Kornheiser wears the giant turkey costume every year so we don't have to. Enjoy and have a Happy Thanksgiving!
Ken Fang: I'm thankful for Lee Corso and the joy he provides to College GameDay. Sure, he's becoming a cartoon character, but he's willing to go for the laughs. Whether he's firing off guns, dressing up as a leprechaun or wrestling with Bill Murray, Corso continues to provide fans with viral entertainment. Corso's headgear picks are a staple of the show and they're part of why GameDay is a ratings juggernaut. Long live Lee Corso and may he continue to be on College GameDay for as long as he wants.
Joe Lucia: I'm thankful that we finally have competition in the marketplace. Yes, other sports networks have existed for years, but they weren't much of an alternative. In August, everything changed with the debut of the Premier League on NBCSN and the launch of Fox Sports 1. While ESPN is still far and away the worldwide leader, NBCSN and FS1 have at least become viable alternatives over the last few months. Competition isn't a bad thing, and in the long run, I think this will be better for everyone – including ESPN.
Ryan Yoder: I'm thankful for more ways to watch games than ever before. From NFL Sunday Ticket on the iPad to Watch ESPN on the phone to the stellar NBC's Premier League Extra Time online, there is almost no way for a sports fan to miss the games they love. Similar to the new competition amongst networks, more choices for sports fans is always a good thing. Especially considering that sports is the final frontier of television that is almost DVR-proof.
no comments