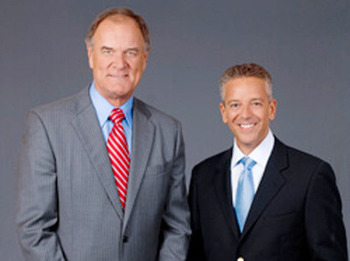 The big news is certainly Thom Brennaman and Brian Billick getting the chance to call their first playoff game for Fox in place of the #2 team of Kenny Albert, Daryl Johnston, and Tony Siragusa. That trio had called a Divisional Round game every year since the 2008 NFL Playoffs. In fact, Johnson had called the game all the way back to the 2001 NFL Playoffs when Dick Stockton and Matt Millen called the Vikings-Saints game. No such changes for CBS, where it will be Dan Dierdorf and Greg Gumbel once again. The full schedule...
Saturday, January 12
Baltimore Ravens @ Denver Broncos (CBS 4:30PM) Greg Gumbel, Dan Dierdorf & Solomon Wilcots
Green Bay Packers @ San Francisco 49ers (FOX 8PM) Joe Buck, Troy Aikman, Pam Oliver, & Erin Andrews
Sunday, January 13
Seattle Seahawks @ Atlanta Falcons (FOX 1PM) Thom Brennaman, Brian Billick, Laura Okmin, & Chris Myers
Houston Texans @ New England Patriots (CBS 4:30PM) Jim Nantz, Phil Simms & Steve Tasker
H/T Sammy!
no comments